For those of you that don't know, I am in love with Brandon Boyd, the lead singer of Incubus. Today is his 32nd Birthday and 32 is my lucky number. Basically, this is the year for him and I to finally make sweet glorious love, and yes I said sweet glorious love because I just can't see Brandon actually beating it up. I mean I would beat it the f*ck up but, I worry about breaking the poor kid in two since I've got a solid 40 pounds on him and I tend to get a little rough ;)
Brandon and I don't really have much in common and he is NOT ANYTHING like any of the guys I am usually attracted to, he is not an AH prick like most guys I'm into. He's a vegetarian, a musician, an artist, and a best selling author. He also looks like he needs a hot shower and a sandwich but there is something about him that I find OH SO DREAMY and yes I said dreamy like I'm some teeny bopper girl who hearts N'Sync or NKOTB. As it is when I see Incubus in concert I can barely freakin contain myself and when he loses his shirt, I just about lose my damn mind and start creming my panties!
This year is the year I will actually speak to Brandon when I see him next and he will fall head over heels in love with me,ditch his supermodel girlfriend, and then write a song for me like he does for all of his girlfriends. Ah yes, this is hopes and dreams to the fullest extent one can have them. At any rate,Happy Birthday to my future boyfriend Brandon! Next year, I will be supermodel skinny and pretty and will jump out of your birthday cake naked followed by a warm welcome into the portal to hades via a gray water experience.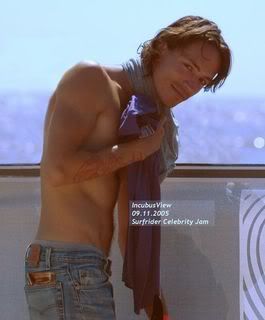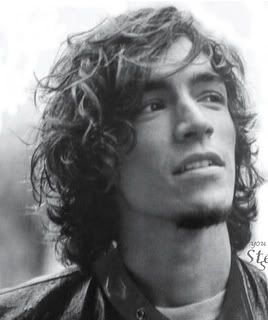 Just looking at him qualifies for pre-creme in my book.