It's been a few months since I let you in on
Part 1
and
Part 2
of How I Became the Alleged Ringleader, but hopefully it was worth the wait! Truth is, the high school years were so full of drama and crazy antics that I couldn't wrap my brain around it and find ways to tell the stories. Since there is a lot of AH material, I'm going to have to narrow it down and break the high school years down into a few posts. Here you have my Freshman and Sophmore years.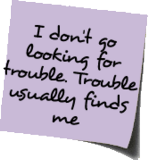 Freshman year at my College Prep High School: I met an upperclassman in summer school and we began "dating" which consisted of holding hands in summer school and making out in movie theaters, it was pretty serious. We had been going out for about a month before school began and I was definitely excited to prance around high school with an older boy on my arm. Little did I know that my boyfrend had a psycho ex girlfriend on campus that I would be forced to deal with...
Cut to my 3rd day of high school, I'm in the gym at volleyball practice. Because I'm a freshman, once practice ended I had to go pick up all the scattered volleyballs and put them away. By the time I make it into the locker room almost everyone has left and my backpack is no where to be found. I'm freaking out and asking random people if they have seen it, one upperclass girl tells me that she saw this chick Leigh (psycho ex gf) take my bag and walk away with it.
At this point I should note that at the time I was 5"9 and maybe weighed 110 lbs. I walk outside and see Leigh and her friend standing in front of the gym, Leigh has a SOLID 20-25 pounds on me. But being the bad-ass motherfucker that I was, I walked right up to the upperclass Leigh and her friend and this is what transpired:
Me: What's your problem? Where is my backpack? Why did you steal it?
Leigh: Your BACKPACK? YOU STOLE MY BOYFRIEND!!! Seriously, she actually said that!
Next thing you know, she grabs me by my hair and pushes me to the ground. She falls on top of me and her knee goes right into my stomach knocking the wind out of me. Lucky for me, I grew up in the valley on a street with all boys as neighbors. This was not my first brawl and I had the wind knocked out of me plenty of times playing football and getting in fights with the boys.
So we're rolling on the floor, she is pulling my hair and trying to scratch my face and then the boys football team is let out on a water break, of course they see the two of us going at it and start cheering and forming a circle around us. Now that I have a crowd, I can't let there be any tie or question as to who wins this fight. I don't bother with hair pulling and instead find my way on top of her and use her hair to pick her head up and smack it into the ground repeatedly. At one point we rolled into this palm tree planter and I was literally rubbing her face in the dirt. Turns out my dad was sitting in the car in the parking lot smoking a joint and watched the whole thing. One of the coaches broke up the fight, our parents were called, and we were to report to the dean of students the next morning.
The next day, I'm in the middle of campus on my way up the stairs to the dean's office and people literally moved out of my way towards the railings as I walked up the stairs. Then this guy Guido (who is now a good friend of mine) started singing/humming the theme from Rocky and everyone started clapping. It was pretty glorious, even though I ended up getting suspended from school the 1st week. Needless to say, no one looked at me sideways again.
Sophmore Year: My parents didn't trust me, but there was ONE TIME that they went to Vegas overnight and left me to stay home alone. Of course I decided to have a party. Actually it was a kick back, you know just a few people coming over to drink, smoke pot, and possibly bone in my parents bed? Right so it was just me and my cousin that were allowed to be at the house. We each invited about 12 people over in total. She went to a public school and invited a few public school peeps over and I invited my good private catholic college prep school friends over. It started out with just a few people over and then everyone's pagers kept going off with questions from other friends wondering what was going on that night. Since everyone knew where I lived more and more people started showing up. Mostly, people from the public school my cousin attended in Porn Capital of the World, Chatsworth CA.
I had to kick everyone out of my house and made them stay in the backyard. Soon there were donations for the keg and it was a full blown keg party. I had people from every school in the valley showing up and the party was seriously out of control, eventually the police showed up and the party was over. I had no idea what was going on in each corner of my backyard, I thought people were just shooting craps, playing dominoes, freestyle rapping, passing blunts and pounding beers...until the next morning when I went outside to begin the cleanup aspect and realized what had happened to my backyard.
Some asshole tagger decided to tag a mural on my wall that separates my house from the neighbors house in my backyard. He tagged his tagger name REAL LARGE which was "Cummer."
Jesus H. Christ! Who in the fuck has such an idiotic tagger/gang name as Cummer? I mean as a guy, don't you all do that? Why the hell would you tag it on someone's backyard who is obviously NOT gang related and is living in an upper middle class neighborhood? And mostly, what the fuck was I going to do? Well, it turns out home depot doesn't sell paint that matches the pink cinder block color or my back wall and there was really nothing that could be done except sit back and expect to be grounded again...forever. God damn public school kids! Needless to say that was the last party I ever had and the last time I was ever left home alone.
The Taco Bell Incident: Over the summer between each grade I would train for the following basketball season with my teammates at school. We would do weight training and conditioning a few hours per day. At the time I was not old enough to drive so my older teammate would pick me up and drop me off from home. We used to go to Taco Bell after training for lunch and this one day we hit up Taco Bell in Canoga Park across from Canoga Park High School, basically it was in the barrio.
The drive-thru line was too long so we decided to walk in and eat there. As I am walking up to the door I see a few chola's standing around and notice that one of them is extremely fat and that she is wearing a drill team uniform from Canoga Park HS. The drill team uniform was green and looked exactly like an ice skating dress, she was even wearing nylons. I saw her enormous hair poof and makeup and immediately looked down to avoid laughing. When I looked down I saw nothing but cellulite. Right as I turn the corner to go into the T. Bell she grabs me by the neck and LIFTS ME OFF OF THE GROUND BY MY NECK!!!!!!!!!!
Chola: What the fuck are joo lookeen at eh? You think I'm fat? Joo think I'm ugly? What is it eh?
Me: Uhhhhh, I don't know what you're talking about. I'm just trying to get my burrito on, I don't even know you.
Chola: Well, then eh why are joo loo-keen at me? **note she is still holding me up by my neck**
Me: Really? I was just trying to look and see where I was going and where the door is...
Chola: Joo think I'm ugly and fat? Well joo don't know me. Because I can dance.
Me (thinking): Is she fucking serious? What is this? Westside story? Are we going to square off in a swan dance?
And then BOOM! She fucking socked me in the face and broke my nose. I don't exactly know what happened but my friend who was hiding inside Taco Bell said from the back it looked like a cartoon and I even slid down the window and fell to the ground. The chola left and I just laid there with blood everywhere and a busted nose.
When I got home my dad said "Why did you go to that Taco Bell? You know that's where all the chola's hang out" Thanks asshole.
About 5 months later I went back to that Taco Bell afterschool. I had 2 1/2 hours to kill before basketball practice and we decided to hit the mall and Taco Bell. As I walk up to the door I see a bunch of cholo's/chola's and don't think anything of it. I go to walk in and what do I hear??
Chola: "I thought I told joo never to come back here, eh?"
Me: "What? I'm not even looking at you. I didn't know you said anything to me I was knocked out, remember?"
And then I ran and she chased me and socked me in the face...again. Because my nose had been broken before, it easily broke and bled everywhere and I went home and my dad said the same thing to me.
That was the end of anyone trying to pick on me, it sounds really violent and gnarly but it really wasn't that bad. I never got my ass kicked after that, ever again. Funny thing is that I STILL walk around with a chip on my shoulder and fear no one, even after all of that. If I see that broad again I'm going to fucking taze her with my taser.
To be continued with Junior and Senior year...